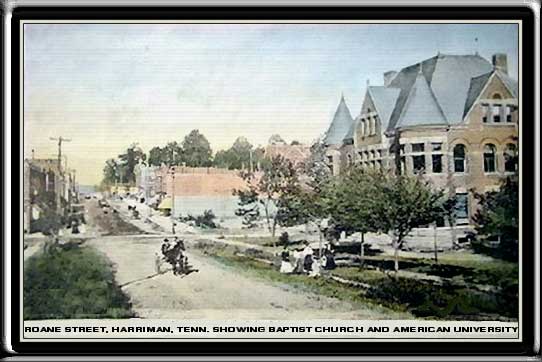 harriman's historic temperance building is on the right
built in 1891 to house the offices of the east tennessee land company which founded harriman, the temperance building, one of harriman's most recognizable and popular landmarks, still stands at the corner of roane and walden streets. at the demise of the land company, the building was bought by the american temperance university and was called greenlee hall. in 1914, harriman bought the building for itself and it served as city hall for a good part of the twentieth century. today the temperance building is the home of the city's heritage museum, and visitors to the area can tour it by appointment.

cumberland hotel, 1910, harriman, tn
the cumberland was one of harriman's earliest buildings and was located at cumberland and devonia streets in town. an 1891 advertisement assured prospective customers that it was a first class establishment. rooms went for about $2 a night. one early manager was matt w. thornton (from 1903-1910).
harriman hotel, route 27, "between cincinatti and chattanooga"
early harriman industry included a paper mill, a hosiery mill, and a lumber company.
christmas lumber - on the banks of the emory, 2003
2003 approach across the emory into harriman
the early postcards & photos on this site have been digitally retouched for viewing on the screen. the history they depict has been kept intact. (their text has been added, altered, or enhanced.)